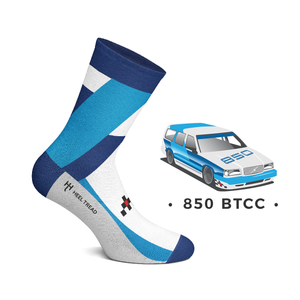 Heel Tread 850 BTCC Socks
Regular price $ 11.99 Sale
Remember that time Volvo went crazy and raced an estate?
We do too! 

In the early 90's someone at Volvo thought it would be swell if they were no longer safe and boring and were now sporty and cool. Fast forward to 1994 and the 850 estate starts competing in the British Touring Car Championship. The first estate to compete in touring car championships was never overly successful on the track. And you'd probably be surprised to remember that it only lasted a season and was replaced the next year by the sedan due to regulation changes - it's never easy for those who dare to be different... 

Nevertheless, its uniqueness and charisma made it arguably the most iconic BTCC car ever - just seeing one (often on two wheels) on the track takes us back.. The fact that even today it's still often mentioned and makes special appearances in recent Goodwood's, is proof enough of the impact its one season in the BTCC had in motorsport fans.

That and the fact they raced it with giant stuffed dogs on the back just to annoy the competition.

That's the stuff legends are made of.
80% Combed Cotton, 17% Polyamide, 3% Elastane.
We use seamless knitting to create a sock with no stitches.

Wash inside out (40ºC/100ºF max). Do not tumble dry, iron, bleach or dry clean.
Hand made in Portugal.