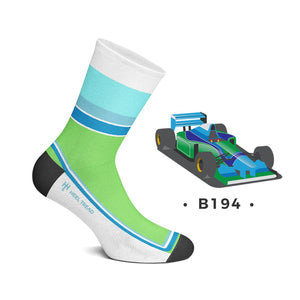 Heel Tread B194 Socks
Regular price $ 12.99 Sale
From back when watching Formula One was like watching a soap opera - it had no lack of controversy, cheating, moral conflict, tragedy and more than a few plot twists. Michael Schumacher drove it like he stole it and ended up taking the Benetton B194 to his first of many, many Drivers' Championship titles in 1994 - although the FW16 was able to secure the Constructors' Championship for Renault-Williams that year.

For us it was the Benetton/Mild Seven gorgeous livery that sealed the deal - cigarettes might be bad for you but didn't they use to make all the best liveries?

* a very special thanks to Wout Jonasse for this great design idea!
80% Combed Cotton, 17% Polyamide, 3% Elastane.
We use seamless knitting to create a sock with no stitches.

Wash inside out (40ºC/100ºF max). Do not tumble dry, iron, bleach or dry clean.
Hand made in Portugal.