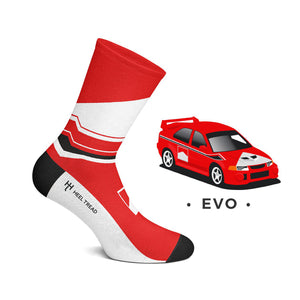 Heel Tread EVO Socks
Regular price $ 12.99 Sale
With ten official versions set apart by roman numerals, each new one poised to rule over all that came before it, the Mitsubishi Lancer Evolution is one of the great Japanese dynasties.

Despite it's humble origins as a family sedan, with the help of Mitsubishi's performance division Ralliart, that transformed it into a car-shaped toy, it won 4 consecutive WRC titles at the hands of Tommi Mäkinen, from 1996 to 1999.

All hail the Emperor of the Rising Sun!
80% Combed Cotton, 17% Polyamide, 3% Elastane.
We use seamless knitting to create a sock with no stitches.

Wash inside out (40ºC/100ºF max). Do not tumble dry, iron, bleach or dry clean.
Hand made in Portugal.