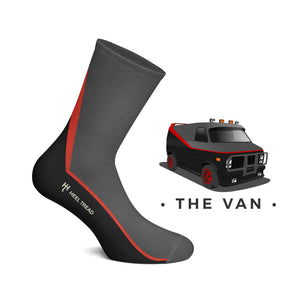 Heel Tread The Van Socks
Regular price $ 11.99 Sale
In the '80s, "The A-Team" had every kid glued to the screen and dreaming about the coolest van of all time. Driven by B.A. Baracus it powerslided and jumped through TV-unprecedented doses of explosions and gunfire while the Team saved the world and made us pity the fools, one episode at a time.

Despite riveting performances all around, the real star of the show was a GMC V8 van with quad tip exhaust and a custom Black and Gun Metal Grey paint job with a Red Stripe across it that ends in a rear wing, red bespoke wheels and fog lights - a lot of them.

This enduring pop culture symbol is a worthy addition to our Screen Heroes collection and a tribute and toast to our childhood dreams.
80% Combed Cotton, 17% Polyamide, 3% Elastane.
We use seamless knitting to create a sock with no stitches.

Wash inside out (40ºC/100ºF max). Do not tumble dry, iron, bleach or dry clean.
Hand made in Portugal.