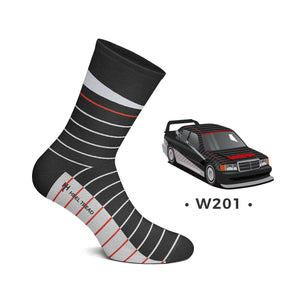 Heel Tread W201 Socks
Regular price $ 11.99 Sale
Originally built with rally racing in mind - and rendered immediately obsolete by the appearance of the turbocharged all-wheel drive Audi Quattro - Mercedes decided to make a shift to touring cars. This interrupted a motorsport hiatus that had lasted for three decades, following the horrific '55 Le Mans accident. 

Fortunately, it was a triumphant comeback for the Stuttgart boys, clocking 50 DTM victories with the 190 between 1988 and 1993. In the 1992 season, the 190E 2.5-16 Evo 2 won 16 out of 24 races and took the top three places in the drivers' standings, Klaus Ludwig winning the first DTM championship for Mercedes.

Based on the Mercedes-Benz 190E 2.5-16V Evolution II, a 500 unit 'homologation special' production, with a Cosworth/AMG tuned engine and a 5-speed dogleg gearbox this mythical road-weapon-slash-box-shaped-unicorn had massive wheel arches and an adjustable rear spoiler (that was also very convenient for roadside picnics) and was stiff competition for the likes of the E30 M3.

Not bad for the 'Baby-Benz'.
80% Combed Cotton, 17% Polyamide, 3% Elastane.
We use seamless knitting to create a sock with no stitches.

Wash inside out (40ºC/100ºF max). Do not tumble dry, iron, bleach or dry clean.
Hand made in Portugal.