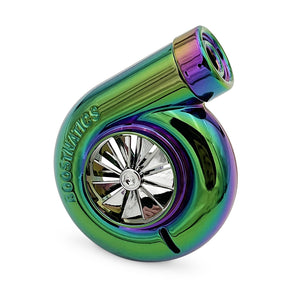 Spinning Turbo® Air Freshener - Neochrome
Regular price $ 19.95 Sale
This is the ultimate car air freshener for the turbo enthusiast! The Boostnatics Turbocharger Air Freshener spins via your A/C air pressure, even at low settings. 
Scents last up to 21 days (on low settings, under ambient conditions) and are easily replaceable with our scent refills.

What's Included?

1x Boostnatics Turbocharger Air Freshener (Neochrome Color)
1x Vent Clip
1x Scent Cartridge

Installation Guide: Click Here
Order Refill Scents: Click Here
Warning: To prevent internal damage to the turbo air freshener, discard or replace the installed scent once it has been used for 21 days.
* Patent Protected: D855,786