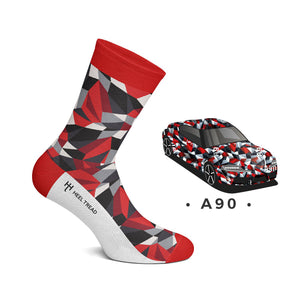 Heel Tread A90 Socks
Regular price $ 11.99 Sale
A big Kon'nichiwa to the new Supra - and to a collaboration between Heel Tread and Toyota UK.

A long lost sibling to the Celica in the '70s, the Supra evolved decade by decade to become one of the most famous sports cars in the world.

The ability of the 1993 A80 to have its indestructible 2JZ engine upgraded to virtually infinite limits, and a lead role on the original Fast and Furious, made wonders to cement its cult status as THE car for the aftermarket crowd. It's hard to be browsing Youtube without stumbling upon millions of videos of 1000+ hp Supra videos drag racing - and more often than not, beating - Lambo's and Ferrari's.

With the production of the previous model having ceased in 2002, Supra fans all over the world have been clamoring for a new one, and this year Toyota finally answered their prayers. Although this time in a very different earthly shape than its predecessor - the new one is a BMW Z4 underneath - it's comforting to know that the legend goes on.

And as soon as we saw the first photos of the new Supra in that über cool red camo we immediately knew we were looking at a killer new sock design.
80% Combed Cotton, 17% Polyamide, 3% Elastane.
We use seamless knitting to create a sock with no stitches.

Wash inside out (40ºC/100ºF max). Do not tumble dry, iron, bleach or dry clean.
Hand made in Portugal.