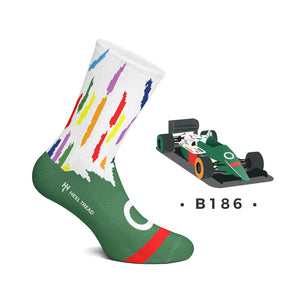 Heel Tread B186 Socks
Regular price $ 12.99 Sale
Remember when Benetton decided to be an F1 team? In 1986 they dropped a BMW-powered-1400hp-bomb that became motorsport legend as the most powerful F1 car ever.

In late 1985, Benetton bought the Toleman F1 team and started what would become a fairly long F1 career. In the following season, they entered the B186, a car that had little more to set it apart than unusually colorful livery and cute painted tire walls. This story could easily end here but, as a side effect of acquiring a racing team, Benetton actually ended up creating the most powerful Formula One car ever.

As with all legends, accounts vary, but at around 1400 hp in qualifying trim and 900 hp for racing, the BMW-powered B186, with a 5.5 bar turbo and a top speed of 351 kph - fastest of the season recorded at Monza - was, and still is widely believed to be the most powerful engine ever to be strapped into an F1 car! Unsurprisingly, it was a handful to drive, with drivers struggling with the 'light switch' power delivery of the BMW engine - there's reference to 1 or 2 seconds of turbo lag - that proved ineffective in narrower, twisty tracks.  

It was then, far from being a successful F1 racer, although still managing a few moments of glory - amidst many retirements mostly due to mechanical issues - and a crowning achievement with Gerhard Berger's first-ever F1 win in the Grand Prix of Mexico, ahead of Prost's McLaren and Senna's Lotus.

With the retirement of the monstrous M12/13 engine, the B186 became a sort of unicorn, leaving an indelible mark in Formula One history books.
80% Combed Cotton, 17% Polyamide, 3% Elastane.
We use seamless knitting to create a sock with no stitches.

Wash inside out (40ºC/100ºF max). Do not tumble dry, iron, bleach or dry clean.
Hand made in Portugal.