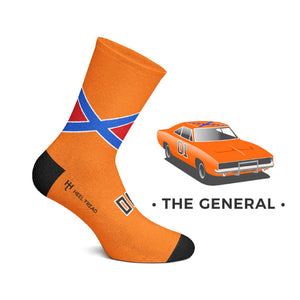 Heel Tread The General Socks
Regular price $ 11.99 Sale
"I think something just bounced up in my undercarriage."
- Daisy Duke *

The bright orange '69 Dodge Charger "General Lee" remais in the minds of many that grew up in the 80's and 90's as the most iconic small screen car ever, challenged only by KITT. And unlike the choir boy driven by Michael Knight, the General was a low tech down to earth muscle car which never ceased to amaze its impressionable young audience with Law-defying tire-smoking chassis-twisting stunts that included a slow-motion 82ft (25m) jump in the opening credits that seemed to last forever (the right kind of forever).

Over the course of its screen time the '69 Dodge Charger that played General Lee went airborne hundreds of times. Of course all this jumping around came at a price. The "Dukes of Hazzard" averaged two Charger's destroyed by episode over 147 episodes, all on account of them Good Ol' Duke Boys Luke and Bo always getting themselves in trouble with the Law. This actually created a shortage of this particular model on the market, leading the producers to go as far as leaving notes on the windshields of '69 Chargers in parking lots, asking owners if they wanted to sell them. #TrueStory

*we feel you Daisy... we feel you girl.
80% Combed Cotton, 17% Polyamide, 3% Elastane.
We use seamless knitting to create a sock with no stitches.

Wash inside out (40ºC/100ºF max). Do not tumble dry, iron, bleach or dry clean.
Hand made in Portugal.