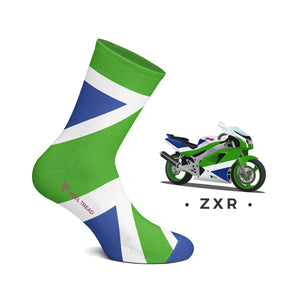 Heel Tread ZXR Socks
Regular price $ 11.99 Sale
Stunning, fast, bat-droppings-crazy, Kawa's ZXR750 (ZX-7 in the U.S.) was every 12-year-old's dream sports bike.

As green as the Hulk, but way less predictable, it looked fast even when standing still in that iconic green-blue-white livery.
Best paint job on a sports bike ever?

For many of us, Kawasaki's ZXR750 (or ZX-7 in the U.S.) is a motorcycling icon. One of the best-looking, most exciting sports bikes ever made. When it came out some 30 years ago, there was nothing quite like it - and there still isn't.

The sheer aggressiveness of its race track genes, combined with what might be the best-looking paint job in any bike ever (at least from a 12-year-old's standpoint) made the ZXR look fast even when standing still.

Designed with the homologation rules of Superbike racing in mind, the result was a sports bike equipped with as much trick kit as they could for the relatively low asking price. Finally, in 1993, Scott Russel won the Superbike World Championship on a Ninja.
In keeping with Kawa's two-stroke machines heritage, the ZXR750 was an untamed beast with a wild and charismatic temperament.- the Hulk if the Hulk was always in beast mode.


80% Combed Cotton, 17% Polyamide, 3% Elastane.
We use seamless knitting to create a sock with no stitches.

Wash inside out (40ºC/100ºF max). Do not tumble dry, iron, bleach or dry clean.
Hand made in Portugal.